Where to buy high quality hair replacement systems?
Toupeec is best supplier or vendor of hair replacement systems in china. Most famous non-surgical hair replacement brand in the world. We doing hair replacement systems for ten years, a large customer base from all over the world, meet all men's needs for toupee.
Our mission is meet every request of all customers. We provide suitable hair replacement for men products and best service. At the same time, we try our best to change your life and give you a new look.
Our Non-surgical hair replacement solutions with high quality and own competitiveness in price. We provide ODM and special design for each customers. Of course we have Lots of mens hair pieces in stock that can immediately ship for you.
Kindly inform us head size,stylist designs unique hair systems, make sure you can wear it.
About toupee hair, whatever curly or straight, brown or grey, long or short. We committed to build comprehensive hair replacement systems for men. Choose Toupeec and will never ever let you down.
Toupeec - Beautiful,Starting from head!
Men's Hair Pieces In Stock
Large stock of men's non-surgical hair replacement system.Thin skin (biological skin) base, monofilament with pu base durable hairpiece.Lace hairpieces have a natural look and durability.Full Swiss Lace & French lace hairpieces have supernatural look.We offer high-density and low-density toupees and wigs for men.Hairpieces for men handmade with high quality Indian hair, free style of parting and hairstyle.
Male hair loss is the best choice for non-surgical hair replacement solutions.Toupeec owns number of men's hair pieces warehouses in Qingdao, China.Fast delivery the next day. Return guarantee within 30 days.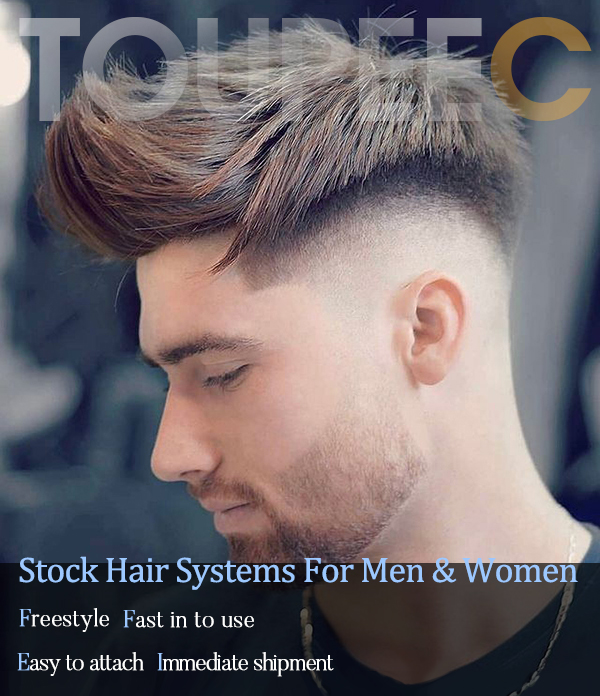 Custom-Made Hair Pieces For Men
Baldness caused by stress, heredity or medical treatment has become a common problem for most men.
Nowadays, non-surgical hair replacement solution has become the best choice for men, and the use of fashionable toupee has become very popular.
These men's hair replacement systems are very easy to use and help men avoid the embarrassment of being bald.
Toupeec offers a variety of different types and styles of men's hairpieces to easily cover different exposed parts of the scalp.
From fashionable appearance to elegant gentlemanly style, men can browse toupeec's customized men's hair pieces section of the product catalog to find their own unique style and budget hairpiece.
WhatsApp +8613165011553 or e-mail sales1@toupee.com Contact us to learn about how to customize toupee for men, base type, production period, hair styling and hair price.